Ada epaper is a daily newspaper which is published in Sinhala. Ada epaper has been available since 2012. Ada epaper is published by Wijeya Newspaper Ltd. It is a famous newspaper among all Sinhala newspapers. this newspaper has a lot of important subjects like local & world news such as education, business, politics, economic, entertainment and etc.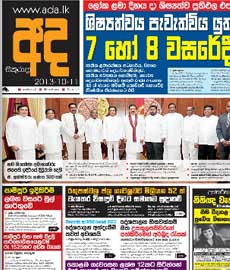 To Read Ada News Paper in PDF Version: View Now
Summary of News Paper
Name: Ada Newspaper
Language: Sinhala
Frequency: Daily
Published by: Wijeya Newspapers Ltd.
Like Also: All News About Sri Lanka / Jaffna News / Colombo News..
Back to Home: Sri Lankan News Paper
உங்கள் கருத்துகளை இங்கே பதிக: